Erosion control blankets key features
Soil erosion control
Moisture retention
Vegetation promotion
Environmentally friendly
Sustainable disposal
Soil erosion control mat a sustainable agricultural solution !!!
Biodegradable ground cover is an eco-friendly and sustainable landscaping and gardening material designed to serve various purposes while minimising environmental impact. It is made from organic materials that naturally break down over time, such as wood fibres.
Soil mulch film is an essential component in agriculture and gardening practices. It is a thin layer of material that is placed over the soil surface to provide various benefits such as weed suppression, moisture retention, temperature regulation, and erosion prevention.
The term "biodegradable" refers to the ability of the soil mulch film to break down naturally and decompose into the environment over time. Biodegradable soil mulch films are designed to reduce the negative impact on the environment compared to traditional plastic films, which can persist in the soil for many years.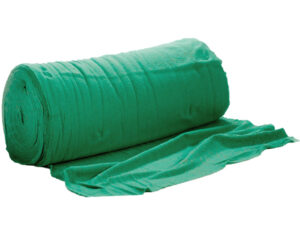 They are engineered to have a specific lifespan, usually ranging from a few months to a year, depending on the desired application and degradation rate required. As the mulch film biodegrades, it transforms into organic matter that is beneficial to the soil, supporting microbial activity and nutrient cycling. This aspect makes it a sustainable and eco-friendly alternative to conventional plastics.
Moreover, biodegradable soil mulch films eliminate the need for manual removal or disposal, saving time, labor, and costs associated with cleanup after cultivation. They contribute to the overall health of the soil ecosystem by promoting better water infiltration, reducing evaporation, and suppressing weed growth without the use of harmful herbicides. In summary, biodegradable soil mulch film plays a significant role in enhancing agricultural practices while minimizing environmental impact. By providing numerous benefits and eventually breaking down harmlessly into the soil, it represents a sustainable solution for farmers and gardeners alike.
Soil biodegradable mulch film packaging solutions:
Can be delivered in many different sizes and qualities, all depending on the type of crop that is going to be cultivated.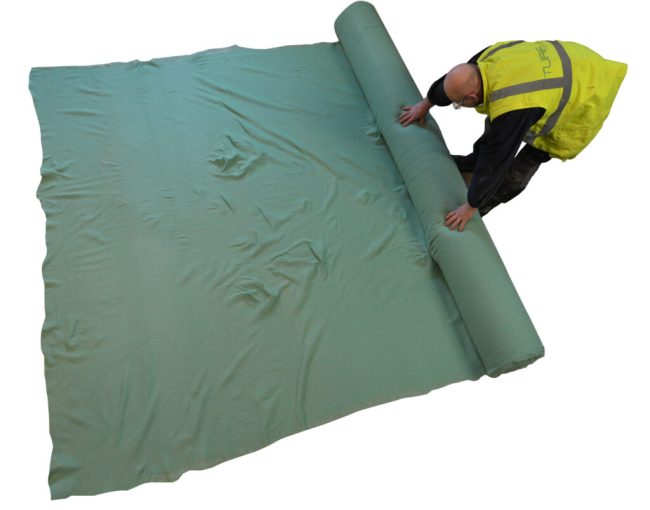 Soil Biodegradable Mulch Film TOD
Material and contents specification
0.80 cm x 12.50 m = 10 m2.
10 m2, 40 m2, 60 m2, 120 m2.
Tobacco, mint aroma, fertiliser, desired seeds optional, can be comprising in TOD.
5 pcs︱1 EUR-pallet. (120 cm x 80 cm x 215 cm).
Vegetables, flowers, herbs, plants and more.
4 – 6 Weeks ( custom few months to a year)
Download the data sheet in PDF format
What are the benefits of erosion control?
Biodegradable soil mulch film offers several benefits in agricultural and gardening practices:
Weed suppression: The mulch film acts as a physical barrier, blocking sunlight to prevent weed growth. This reduces the competition for nutrients and water, allowing crops to thrive.
Moisture retention: The film helps to conserve soil moisture by reducing evaporation. This is particularly beneficial in arid or drought-prone regions, as it helps plants maintain adequate hydration and reduces the need for frequent irrigation.
Temperature regulation: The mulch film can help regulate soil temperature by insulating the soil from extreme heat or cold. This is especially useful for sensitive plants that require specific temperature conditions to grow optimally.
Erosion prevention: By acting as a protective layer, the mulch film helps to prevent soil erosion caused by wind or water runoff. It keeps the soil in place, reducing the loss of valuable topsoil and preserving the nutrient-rich layer for plant growth.
Enhanced soil health: As the biodegradable mulch film breaks down, it adds organic matter to the soil, improving soil structure and fertility. It encourages the activity of beneficial soil microorganisms, such as bacteria and earthworms, which contribute to nutrient cycling and overall soil health.
Time and labor savings: The use of biodegradable mulch film eliminates the need for manual weeding and reduces the frequency of irrigation. This saves time and labor for farmers and gardeners, allowing them to focus on other essential tasks.
Environmental sustainability: The biodegradability of the film significantly reduces the environmental impact compared to traditional plastic films that persist in the environment for years. It eliminates the need for film removal or disposal, reducing plastic waste and potential pollution.
The use of biodegradable soil mulch film promotes healthier plant growth, conserves resources, improves soil quality, and demonstrates a more sustainable approach to agriculture and gardening.
Biodegradable ground cover
The use of biodegradable soil mulch film promotes healthier plant growth, conserves resources, improves soil quality, and demonstrates a more sustainable approach to agriculture and gardening.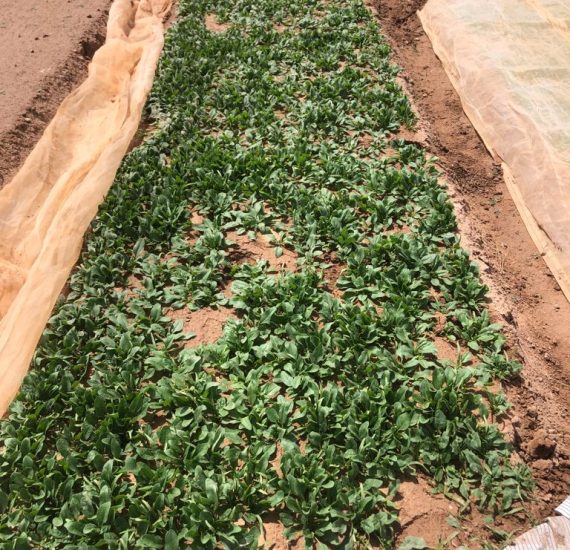 Result of spinach plantation after 10 days without mulch film.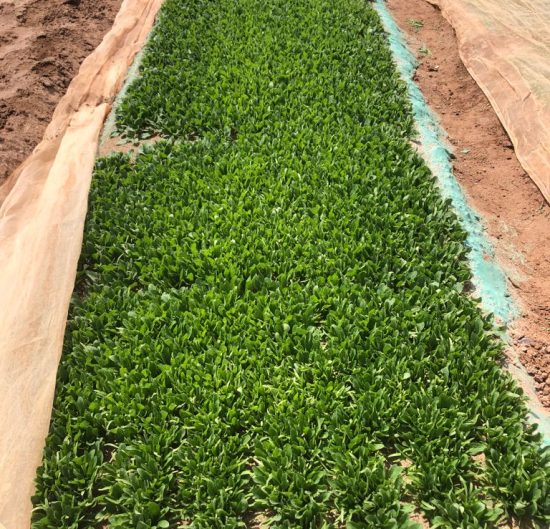 Result of spinach plantation after 10 days using our Soil Biodegradable Mulch Film.
Plastic Ground Cover, traditional agriculture method
Thin PE mulch films must be removed from soil after harvest: As it is often impossible to collect the films completely, PE film residues find their way into the soil and accumulate there, since they cannot be biodegraded by micro-organisms.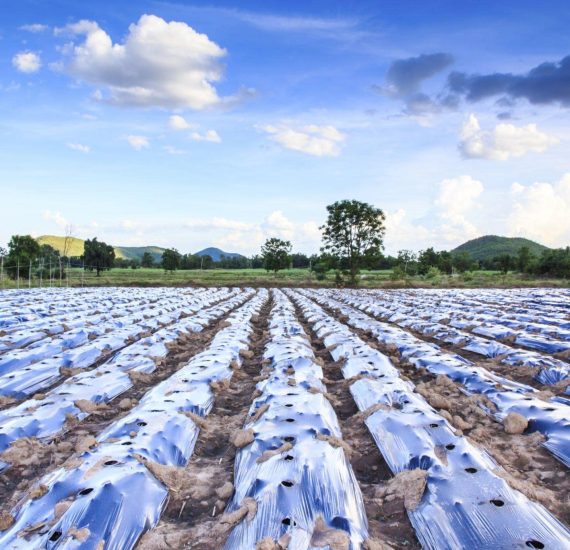 These mulch films do not degrade naturally and need to be removed from fields after harvesting.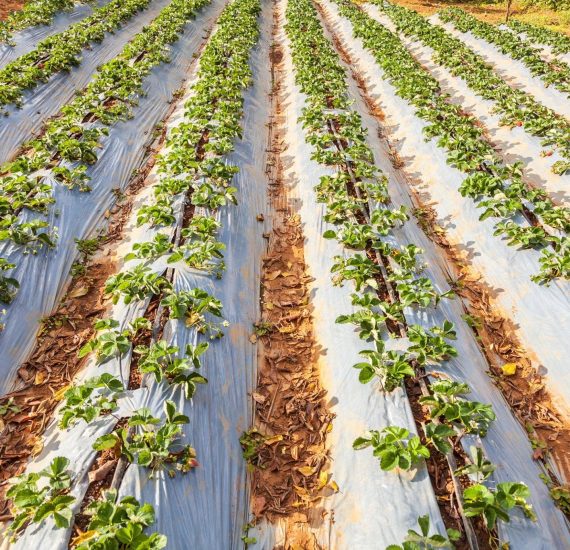 Plastic mulches for the production of vegetable crops.
The laying of the film can be performed with the same equipment used for traditional plastic mulching films, being careful to reduce the tension of the roll during operation.
Faster access to field after harvest, Decrease of pollution caused by PE plastic in our environment,