Cost effective
Eco friendly
Professional and residential grade
Premium material
Reduce risk of injury damage to machinery
⇄ View all grass seeds mixtures
Biodegradable erosion control, sod & landscape hold stakes
Stakes for securing landscape fabrics and new turf a tough 100% biodegradable landscape stake. Can be driven into the hardest ground, but also breaks down naturally without harming the environment as it is made from renewable materials.
Landscape stakes are a biodegradable installation tool to secure coir mats, straw blankets, and erosion control products. Erosion control stakes break down over time, reducing the amount of maintenance required when erosion control blankets are used. Made with recycled plastic and an additive that changes the polymer structure, the biodegradable landscape stakes will last 8 to 12 months.
Landscape stakes features
Landscape stakes hook into the ground and stay put. Once the landscape stakes are installed, they will begin to biodegrade. To make sure that the erosion control stakes break down while being used, they should be completely submerged in the soil and away from secondary exposures to heat, sunlight, and chemicals. The breakdown process will turn these plastic landscape stakes into piece of carbon and plastic particles, which will eventually break down into carbon dioxide, water, and biomass material. Typically, landscape stakes will last anywhere from 8 to 12 months, depending on your site conditions.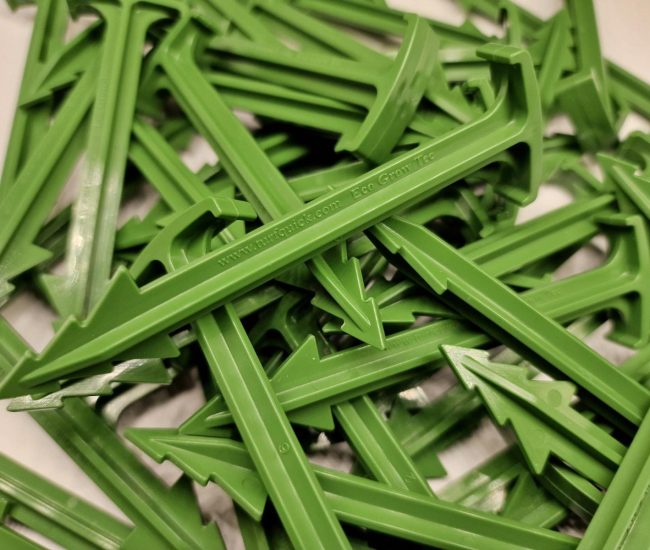 Biodegradable Stakes packaging solutions: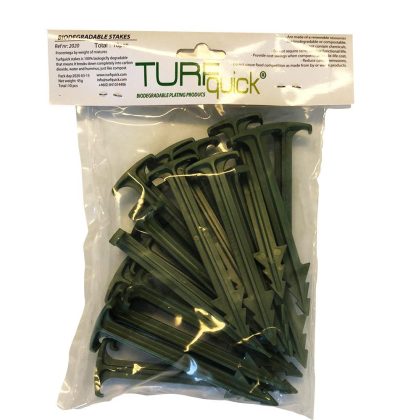 Biodegradable stakes 10 pcs.
Material and contents per m2
150 pcs︱1 box. (28 cm x 31 cm x 40 cm).
Download the data sheet in PDF format
Stakes for Installing erosion mats
Erosion control matting installation might require installation products in hard soils for a considerable amount of time. If you need plastic landscape stakes that can secure a variety of geotextiles and erosion control products, biodegradable landscape stakes are the solution to your erosion control matting installation questions.
For slope-based erosion control projects, you need to have a tool that will secure your erosion control products in place. With a stake installer you can install biodegradable landscape stakes faster and more efficiently. Erosion control matting installation will require a specific formation for plastic landscape stakes to be installed in.
A 4″ (10cm) Biodegradable Stake has 45% more anchorage power than a 6″ metal staple thanks to a larger surface area and added barbs.
Landscape stakes benefits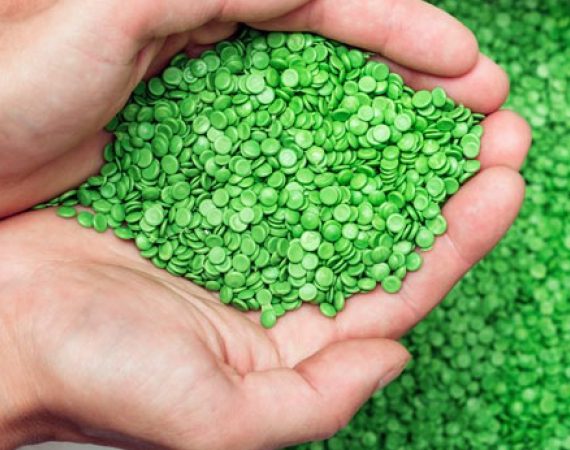 Multi use, juke netting, sod, straw wattle, weed fabric, geotextiles and geomats
Penetrates hard soils
Pin down: netting, landscaping projects, sod, erosion control products
Most economical and beneficial for slope-based applications
Easy to install
After the stakes, pegs, or staples have been inserted into the soil the biodegradable process will begin. Over time the plant-based plastic material will begin to break down into micro size bits of carbon and plastic particles.
The carbon will break down the plastic particles leaving only water, carbon dioxide and the leftover bio-plant material the product is originally made from.
Extended exposure to heat, sunlight and chemicals may increase the biodegrading process. Ensuring that stakes and pegs are completely submerged in the ground is the best way to maintain the average breakdown time.
How to hold down your planting textile?
Below is an illustration of how landscape stakes and staples should generally be laid out to hold down our planting or cultivation textile, erosion control products or landscaping products. Note: when combining one blanket/net/mat with another, you should overlap the two by one foot.
Mats/blankets should be installed vertically downslope.
Mats overlap minimum 4cm!
Recommend distance for erosion control blankets are 2 meters in the first fabric and 3 meters in the second fabric.
Natural micro-organisms in the ground cause the complete biodegradation of a biodegradable stake. This rate depends on the moisture and temperature of the soil.