Oregano seeds key features
Quick Growing
Adaptable to Various Soil Types
Resilient and Hardy Variety
Aromatic Culinary Delight
Good for microgreens and container gardens
Non-Gmo seeds
⇄ View all microgreen seed varieties
Oregano seeds for your garden oasis
Embark on a flavorful journey with our premium oregano seeds. Sourced for excellence, these seeds promise to bring the rich, aromatic essence of oregano to your home garden. Whether you're a seasoned gardener or a budding enthusiast, our oregano seeds are the key to cultivating a thriving herb garden. Elevate your culinary adventures with the freshest, homegrown oregano, adding a burst of Mediterranean-inspired flavor to your favorite dishes. Don't just plant; cultivate excellence with our meticulously selected oregano seeds. Discover the joy of growing and savoring your own culinary herbs – order your oregano seeds today!
Our commitment to quality ensures that each seed holds the promise of a flourishing oregano plant. From the germination stage to the final harvest, we prioritize excellence, so you can relish the satisfaction of harvesting your own aromatic oregano leaves. Join the ranks of home gardeners who appreciate the joys of growing and using their own herbs.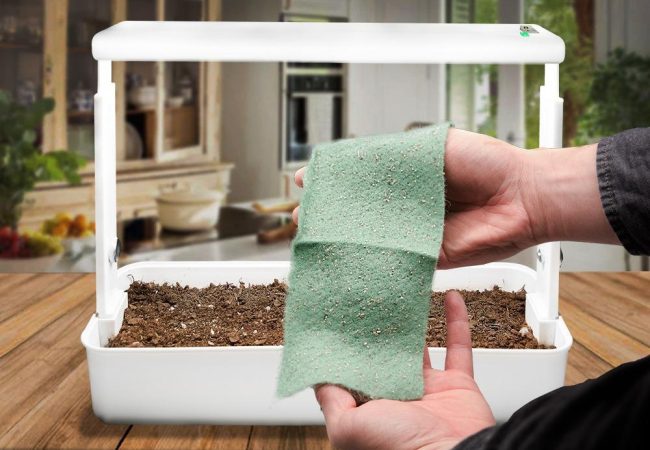 Oregano packaging solutions: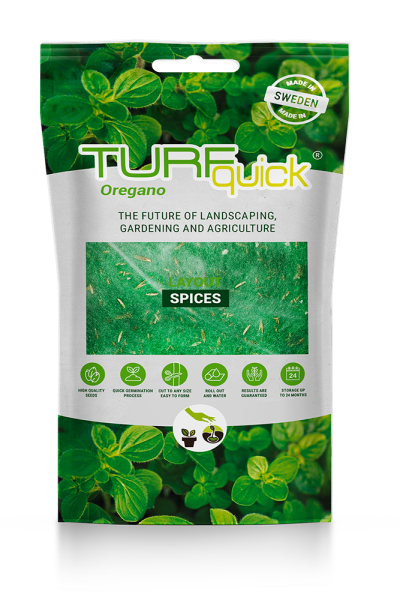 Origanum vulgare ssp. hirtum
Material and contents specification
120 Seeds (100% Pure Live Seeds) Non-Gmo
360 pcs︱1 EUR-pallet. (120 cm x 80 cm x 215 cm).
Download the data sheet in PDF format
Immerse yourself in the world of culinary creativity with our exceptional oregano seeds. Known for their robust flavor profile and aromatic allure, these seeds are your ticket to cultivating a garden brimming with fresh, organic oregano. Whether you're crafting savory sauces, seasoning meats, or enhancing Mediterranean-inspired dishes, our oregano seeds guarantee a homegrown touch that transforms ordinary meals into extraordinary culinary experiences.
These oregano seeds are more than a planting opportunity; they're a gateway to a culinary adventure. Elevate your cooking with the intense, earthy notes of freshly picked oregano. Order our premium oregano seeds today and savour the essence of homegrown goodness in every delicious dish you create."
When to plant oregano seeds fabric?
Sow oregano seeds indoors in spring, into small pots or modular trays filled with seed compost. Don't cover the tiny seeds. Keep above 15°C (60°F) and seedlings should appear in a couple of weeks.
Where to plant oregano seeds fabric?
Oregano seeds can be planted in various locations, providing you with flexibility in cultivating this aromatic herb.
By choosing the right planting location, whether in garden beds, containers, or indoors, you can create an optimal environment for oregano seeds to thrive and provide a continuous supply of fresh, aromatic leaves for your culinary delights.
How to plant oregano seeds fabric?
Prepare the Seed Trays or Containers: Fill seed trays or small containers with the seed starting mix or potting soil. Make sure the containers have drainage holes to prevent waterlogging.
Sow the seeds: Place the oregano seeds fabric over the prepared soil. Start at one end and unroll it across the area you want to cover.
Watering: Moisten the soil with a watering can or spray bottle. Ensure the soil is consistently moist, but avoid overwatering, which can lead to fungal issues. Maintain moisture until the seeds germinate.
Germination: Oregano seeds typically germinate within 7 to 14 days, depending on the conditions. Keep the seed trays or containers in a warm location with indirect sunlight until germination occurs.
Provide Adequate Light: Once the seeds have germinated, move the seed trays or containers to a location with bright, indirect sunlight. Oregano requires plenty of light for healthy growth.
Transplanting: When the seedlings have developed a few sets of true leaves and are large enough to handle, transplant them into larger containers or directly into the garden if the outdoor conditions are suitable.
Watering and Care: Water the oregano plants regularly, ensuring the soil remains consistently moist. Once established, oregano is relatively drought-tolerant.
By following these steps, you can successfully plant oregano seeds and enjoy a bountiful harvest of this flavorful herb. Whether you choose to grow oregano indoors or outdoors, providing the right conditions will contribute to the plant's health and productivity.
Harvesting oregano is a simple process, and it's crucial to do it at the right time to ensure the best flavor and aroma. Here's a step-by-step guide on how to harvest oregano:
Timing: Oregano can be harvested once the plant has reached a height of around 4 to 6 inches. It's best to wait until the plant is well-established, usually after its first flowering. Harvesting before the plant flowers can result in the best flavour.
Select the Right Tools: Use clean and sharp pruning shears, scissors, or your fingers to harvest oregano. Make sure your tools are sanitised to prevent the spread of diseases.
Harvesting Technique: Harvest the oregano leaves by cutting the stems just above a pair of leaves. This encourages branching and bushier growth. You can harvest entire stems or just the leaves, depending on your preference.
Outer Leaves First: Start by harvesting the outer leaves, allowing the inner leaves to continue growing. This method promotes continuous growth and ensures a fresh supply of leaves for an extended period.
Harvest Before Flowering: For the best flavour, harvest oregano before it starts flowering. Once the plant flowers, the flavour may change, and the energy of the plant shifts toward seed production.
Regular Harvesting: Oregano is a herb that benefits from regular harvesting. The more you harvest, the bushier and more productive the plant becomes. Harvest as needed throughout the growing season.
Drying Oregano: If you have more oregano than you can use fresh, consider drying it for later use. Harvest larger bunches and hang them upside down in a dark, well-ventilated area until completely dry. Once dry, store the leaves in airtight containers.
Freezing Oregano:
Another preservation method is freezing. Wash and chop the oregano leaves, then place them in ice cube trays with water or olive oil. Once frozen, transfer the cubes to a freezer bag for convenient use in cooking.
End-of-Season Harvest: Before the first frost in colder climates, consider doing a final harvest of your oregano. This can help preserve the remaining leaves before the plant goes dormant for the winter.

By following these guidelines, you can harvest oregano effectively, ensuring a continuous supply of this flavorful herb for your culinary endeavors.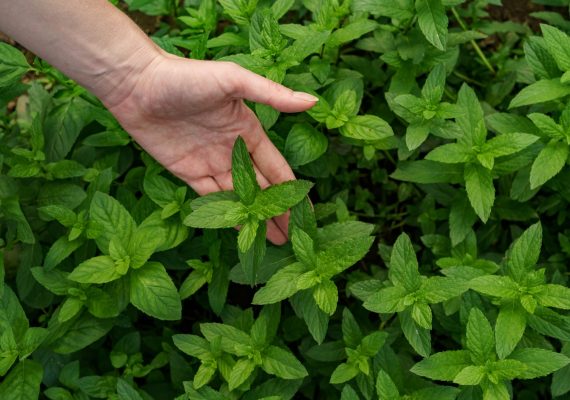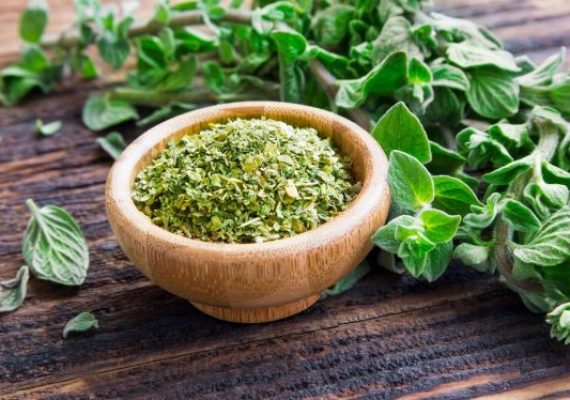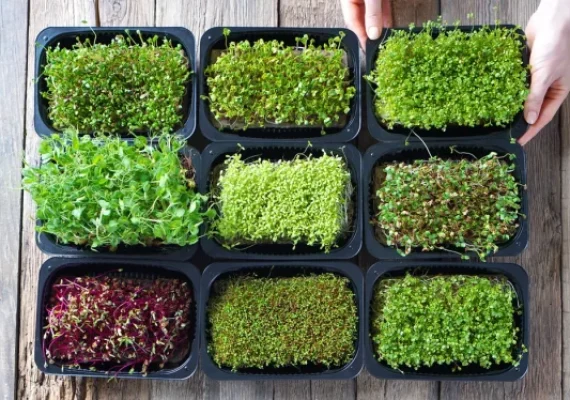 Oregano patch are biodegradable and contain no harmful chemicals.
How to grow veggies all year round?
Growing veggies all year round requires careful planning and consideration of various factors but can grow vegetables indoors including lettuces, arugula, spinach, kale, carrots, radishes, beet greens, tomatoes and more. Here are some tips to help you achieve year-round vegetable gardening.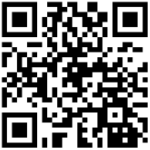 Scan or click the code to see the installation